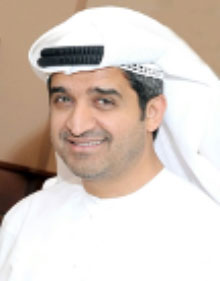 He is a Deputy Chairman of the Board of Directors and deputy Director General of knowledge &Human Development Authority        
He had published 12 research papers in international periodicals, including four with an emphasis on sports in the UAE. I am a recipient of the Al Owais Creative Award for Studies and Scientific Innovation.
He has been a member of several organizing committees for international conferences.  Dr Ahmed Saad Al Sharif is the Middle East Vice President of the International Council for Health, Physical Education, Recreation, Sport, and Dance, and a Cont. President of International Sport for All Federation.
He is holding a PhD in sports management, as well as a diploma from the International Olympic Committee. He is also a member of the Arabic Sports Council, and the technical committee at Sheikh Nasser bin Hamad Al Khalifa Scientific Research.