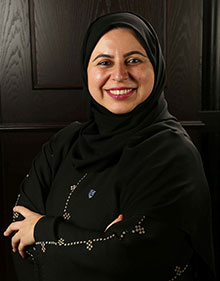 Laila Mohebi has been in the education field for more than 20 years where she worked in different sectors and areas related to K-12 and higher education in UAE. She held senior positions with GEMS Education, Knowledge and Human Development Authority (KHDA), Ministry of Education, Hamdan Bin Mohammed Smart University, and Zayed university. Her academic profile includes teaching in both K-12 and higher education institutes. She was a teacher of English for 10 years in public schools, and later on moved to teach at Hamdan bin Mohammed Smart University and Zayed University. Her teaching profile includes teaching undergraduate students' educational courses and supervising them during practicum and internship.
Laila Mohebi's research interest is mostly related to teacher education, teacher candidate feedback after teaching, early childhood education and TPACK. Her PhD thesis focused on teacher candidate's preparation for a better integration of technology in classrooms. Currently she is working on various papers about teacher candidate field experience, inclusion and metacognition.
Finally, her education profile encompasses Bachelors of Science in Education from United Arab Emirates University, Masters of Arts in Online Education Leadership and Management from Hamdan Bin Mohammed Smart University, and a PhD in Education Leadership program from the British University in Dubai. She also holds an award from CMI in consultancy.