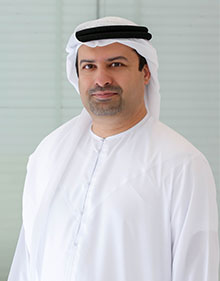 Dr. Marwan Alzarouni is an internationally recognized blockchain technology advocate, keynote speaker and strategic advisor to companies and governments.  He is one of the world's most highly respected voices when it comes to blockchain use cases for both governments and businesses.
Dr. Alzarouni is the CEO of Dubai Blockchain Center (DBCC), an impact business and a strategic partner to Dubai Future Foundation. The center was inaugurated by His Highness Sheikh Mohammed Bin Rashid Al Maktoum under the Area 2071 initiative in May 2018. It aims to create a fertile ground and a holistic ecosystem for blockchain companies and projects to thrive in. DBCC regularly hosts a number of blockchain startups within Area 2071 and also conducts educational classes and seminars around blockchain use cases in government and private sector. In Partnership with Smart Dubai and Educhain, the center published a groundbreaking report on blockchain best practices titled: Blockchain Insights: How to Navigate Blockchain Project Implementation. An exploration of common challenges with learnings and recommendations for successful execution.
Dr. Marwan is currently heading the Digital Asset Task Force (DATF), a research and advisory team that reports to the Dubai Future Council for Blockchain, on which he is also one of its 15 members. The purpose of the task force is to conduct a comprehensive study to provide clear guidance on how digital assets can be encouraged and regulated. The council establishes Dubai as a global blockchain capital, offering a prominent platform for decision-makers from various local and international governments and private sector entities to explore futuristic, blockchain-based solutions.
Dr. Alzarouni is also the Managing Partner at Accelliance Consultancy LTD which provides its services to the UAE's Center for 4th Industrial Revolution (C4IR) and the World Economic Forum (WEF). Accelliance regularly conducts research and studies into the applicable use cases for blockchain technology and aids in creating toolkits that can be tested and implemented by various businesses and government entities worldwide.
Dr. Marwan is a regular on informative TV shows, radio, podcasts and YouTube videos. He provides his expert opinions to the media when it comes to expert commentary on news and events related to blockchain technology and cryptocurrencies.
Dr. Alzarouni has written a number of well-regarded publications in academia and commercially. This includes but is not limited to papers in cyber security, mobile phone forensics, information superiority and blockchain technology.
If you would like to talk to Dr. Marwan Alzarouni about any advisory work, speaking engagements or training needs then you can contact him at [email protected].