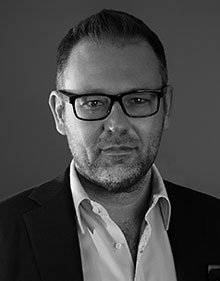 A quantum physicist turned future strategist, Dr. Petar Stojanov applies learnings from science to help governments and organisations solve complex innovation challenges. As Partner and Practice Lead of Innovation, Talent and Future Strategy at Black, a global design and innovation advisory, his team advises on the impact of disruptive new technologies and business models to shape the future of government, real estate and mobility. His team has worked to develop regulatory and policy frameworks around disruptive technologies, accelerate national talent, and build innovation portfolios with tangible human and commercial impact extending into the billions.
As a government-level advisor, Dr. Petar has been invited as a distinguished speaker at the China International Big Data and Industry Expo to share his comments on the ethics of AI, as well as an invitation to chair the Arabnet Digital Policy Forum roundtable discussion on stimulating innovation and entrepreneurship in the MENA region.
In his off-hours, Petar hosts and co-produces the scientific documentary series 'Scienced' (soon to feature on Amazon Prime and Netflix), exploring pioneering new businesses based in the UAE and solving global challenges through disruptive technologies. Petar occasionally lectures on Innovation and Entrepreneurship at New York University Abu Dhabi and London Business School Dubai and is the Futurist-In-Residence at Hyperloop Transportation Technologies.