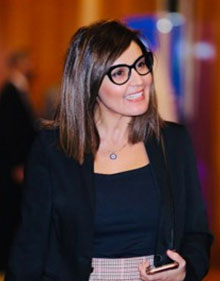 Obtained her Master of Business Administration from the University of Bedfordshire in UK, Master of Educational leadership from the British University in Dubai, and National Professional Qualification of Headship (NPQH) from the University of College London.
Shas has been working as an instructional leader in the field of Education for more than 17 years. Served as a teacher, Head of Department, and School Vice Principal for leading schools in UAE. She was a member of different schools' local governing bodies and played a significant role in strategic planning and schools' development. Ms. Rania is interested in studying the latest trends in Education and different leadership styles that can impact the success of organizations in addition to her interest in women empowerment. She had conducted many empirical studies on different topics such as instructional leadership, inquiry- based learning, professional development, and lately marketing schools for better enrolment. She had published some of her leading articles in local and international educational magazines.  She is specialized in Schools improvement from both educational and business perspectives and was able to lead different teams to transform schools for better inspection ratings and accreditations.
Currently, she is a vice principal in one of the Beaconhouse Group schools in UAE as she leads the school improvement and strategic planning department.