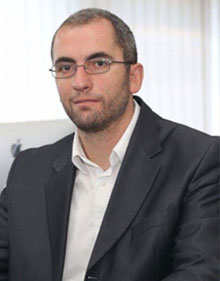 Prof. Dr. Šemsudin Plojović, was born in 1981, Novi Pazar, Serbia. Bachelor's and Master's degree reached in Belgrade, where in 2008 received doctoral dissertation at the University Braca Karic (Alfa BK University http://www.alfa.edu.rs/). He received his second doctoral dissertation at the University of St. Cyril and Methodius, Skopje FJR Macedonia (http://www.ukim.edu.mk/en_index.php). Since April 2015 holding a position of full professor at University.
Current Position: Full professor at Alfa BK University in Belgrade and visiting professor at Megatrend University also in Belgrade, Serbia. In previous positions worked as a Dean of Department of Computer Science at University of Novi Pazar, President of Regional Business Association SABA, and Manager of University Business Center, in all that time was engaged as lecturer at University. 
Worked in various research projects funded by the UN, the Government of Serbia, the EU, as well as local governments.
Links to the online profiles:
https://www.researchgate.net/profile/Plojovic_Semsudin
https://scholar.google.com/citations?user=vq0FnqYAAAAJ&hl=sr
https://publons.com/researcher/2342142/plojovic-a-semsudin/