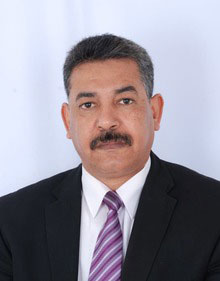 Outreach and Cultural Consultant - Emirates College of Technology.
Dean, Faculty of Media & Public Relation, from 2017-2019.
PHD in international media from the University of Baghdad in 1998.
Editor-in-Chief of the International Journal of Mass Communication and Media - Kingdom of Bahrain.
Member of the Editorial Board of the International Journal of Communication Science – Germany, since 2017.
Member of the Editorial Board of Al-Arabi Journal for Media Studies -Palestine.
Member of an advisory board for many international scientific journals.
Supervised and participated in the discussion of more than 165 Master Theses in Media and Public Relations in many Arab universities.
He has published many scientific papers in international journals.
Mulvin issued for him: (international and Arab satellite media) and (contemporary research and issues in the media).
Participated in dozens of international scientific conferences inside and outside the Emirates.