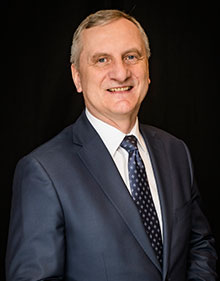 Zbigniew J. Król MD, PhD, is specialized in pediatrics, family medicine and public health. Since 2019 is engaged as deputy director for clinical and scientifical purposes in Central Clinical Hospital of the Ministry of Interior and Administration. The Hospital was dedicated for the first line of fighting against COVID-19 pandemic. Dr Król was acting 2017-2019 a deputy Minister of Health in Poland responsible for international cooperation, health system organization as well as for public health. Previous professional engagement was focused on managing different health care organizations like hospitals and out-patients units.
In 2007-2009 he was engaged as deputy director of Agency of Health Technology Assessment in Warsaw, Poland (AHTAPol) in settlement this important for health system organization. In this period dr Król was member of steering committee of EunetHTA – European collaboration group of HTA Agencies; member of INAHTA - worldwide association of HTA experts; International Society for Pharmacoeconomics and Outcomes Research (ISPOR) and as institutional membership of AHTAPol in Guidelines International Network (GIN).
Zbigniew J. Król was also acting as an associate professor in Department of Health Policy and Management in Institute of Public Health, Jagiellonian University in Krakow. His areas of expertise besides HTA are management of health care units; quality improvement of health services and primary care development.
As international experience dr Król noticed: Polish chief of Harvard-Jagiellonian Consortium for Health of the project Data for Decision Making financed by USAID; evaluation of development of primary care in Bosnia and Herzegovina engaged by Project Hope Foundation; WHO experts panel group – consultant in Belarus in 2000-2002; World Bank expert in several projects; collaboration with International Finance Corporation (IFC) in implementation of public-private partnership; expert at the EU project leading by German company GVG: Health Financing and Management; and being vice-chair of primary care expert group of Northern Dimension Partnership of Public Health and Social Well-being.