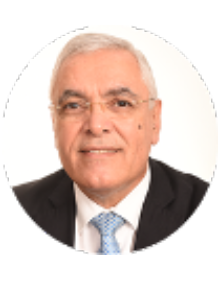 Professor Ibrahim H. Osman is the Husni Sawwaf Endowed Chair in Business and Management at the Olayan School of Business at the American University of Beirut. Dr Osman obtained his Ph.D. in Operations Research/Management) from the Management School, Imperial College, University of London, MSc in Operations Research with distinction from University of Southampton, and BS in Mathematics from the Lebanese University. Dr Osman has over thirty years of research, teaching and consulting services in the fields of Artificial Intelligence, Business Analytics; Electronic Government; Operational research; Meta-heuristics, Strategic Performance Measurement and Management; Shared Value and Sustainability Modeling; and Supply Chain and Logistics.
Dr. Osman has received several National and International Awards and Honors, including: President of the Lebanese chapter of American Association of Information System (LAIS) since December 2017; Recipient of the Abdul Hameed Shoman Award for Arab Researchers (2015) for my contributions to the Economic and Administrative Reform and its Association with Political Reform"; One of the Finalists of the EURO Excellence in Practice Award 2015, for my practical impactful contribution in electronic e-government research through co-leading two international funded research projects:
CEES: Citizen oriented Evaluation of E-Government Services: A Reference Process Model, an EU funded project and IMEET: an Integrated-Model for Evaluating E-government services Transformation- an QNRF funded research project for evaluating e-government services from all stakeholders perspectives in Qatar, and Lebanon, Turkey and UK. The implemented e-government research leads to an expected savings billions dollars in Turkey. "The CNSR 4th Annual Research Excellence Award 2014 - Management Science and Impacts on the Private and Public Sectors in Lebanon"; co-founding chair the two international conferences, Metaheuristics established in 1995, and the Cognitive Analytics Management conference Launched in 2016, among others.
 Further, Dr. Osman co-authored/co-edited several books including "strategic performance management and measurement", four books on Meta-Heuristics Theory and Applications (Blazer 1993; Kluwer, 1996; Willey 1996; Springer 2009), and a number of refereed proceedings including Digital Economy - Emerging Technologies and Business Innovation (2019). Currently serving on the editorial boards of several academic high impact journals including, Journal of Enterprise Information Management, Journal of Scheduling and Journal of Heuristics. Also Dr Osman published a large number of papers in high impact factor journals that attracted over 9800 citations according to Google Scholar.