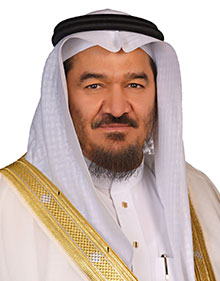 He got his bachelor degree of medicine and surgery (MBBS) from King Saud University in 1982, Higher diploma as a GP in Family Medicine, same university in 1986.  He is the fellow of the Royal College of General Practitioners (FRCGP) since 1989 and the fellow of the Faculty of Public Health (FFPH) since 2003.
He have been awarded in June, 2003 the Professorial ship in health systems and quality (Adjunct Professor) from Oklahoma University, USA.  I got the fellowship in medicine in 2007 (FRCP). At the beginning of 2010 he received the Professional ship degree from Imperial College, London – UK. 
Scientific Career
He is a Family and Community Medicine Consultant & Prof of Public Health.
He was the Director General, Executive Board, Health Ministers' Council for the Cooperation Council States for more than 16 years. He is now the General Secretary of the Arab Hospital Federation, as well as Deputy Chairperson of Arab Union Anti -Forgery and Counterfeit.  He is a member of the Board of Islamic Organization for Medical Sciences. He is the chairperson of the Saudi Epidemiology Society.
The author and co-author of many books and manuals which were over (40), he published more than 115 research and scientific articles in various international, regional and national scientific journals. He is a reviewer of a number of local, regional, and international journals. He was awarded more than 30 Medals and Certificates, and Order of Merits. He is the fonder and a member of more than 35 scientific societies, associations and organizations.